Cannons fight cancer on June 23rd
Last September HGR Lacrosse was bestowed with the honor of an exciting partnership with Major League Lacrosse's Boston Cannons. The Cannons' General Manager Kevin Barney explained how this relationship will help publicize their team over a wider audience, while also bringing great benefits to HGR:
"As part of a new Cannons initiative to create deeper relationships with local youth lacrosse programs, the Cannons have begun a partnership with North Andover based HGR Lacrosse. The partnership will provide Cannons tickets to each player on the HGR Lacrosse Summer Elite teams, as well as all players in the HGR Lacrosse Winter Leagues, and their summer camp. The Cannons will provide marketing support for the elite team try-outs, leagues and programs, as well as unique game day experiences and autographed Cannons memorabilia."
As if you need another reason to watch the Cannons live at Harvard Stadium, the Cannons announced their first annual "Cannons Fighting Cancer" event taking place on June 23, 2016 at their home game against the Chesapeake Bayhawks. The event is part of their partnership with The National Foundation for Cancer Research 'Play4theCure' initiative.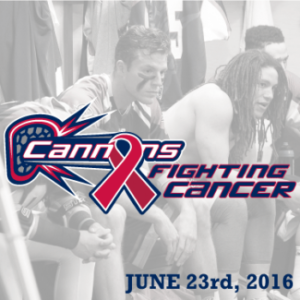 "It brings great pride that our organization is able to gather the lacrosse community together with members of the medical and research communities to support those who are helping to combat this disease," said President of the Boston Cannons, Ian Frenette. "We want to honor those who are making a difference in the fight cancer and raise funds for organizations that are working diligently to find a cure."
HGR is so proud to be associated with this great organization, and we look forward to seeing a large contingent of HGR Lacrosse players and fans supporting an important cause.
For tickets and more information, visit https://www.bostoncannons.com/cannons-fighting-cancer
Can't make it? Consider making a donation at https://www.crowdrise.com/cannons.