The HGR family is proud to announce that our boys' lacrosse coach Scott Corcoran has been picked up by the MLL! He will be joining the New York Lizards after a stellar career as a longstick midfielder with the Merrimack Warriors. Coach Corcoran, who once planned on playing college hockey, wisely switched to lacrosse, a decision which has undoubtedly made Merrimack College extremely happy!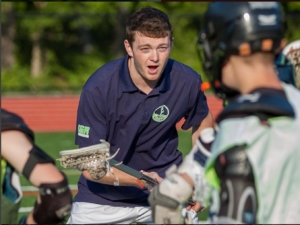 Coach Corcoran has been called "One of the Nation's Elite," a well-earned title with awards and recognition as long as a midfielder's stick!
2016 1st team All-American
Fuddrucker's 2015-16 Male Athlete of the Year
2016 DII player-of-the-year nominee
2013-2016 Long Stick Midfielder at Merrimack College
Also a team captain at Merrimack College
Went to Austin Preparatory School (2008-2012), Two Year Captain
Three time Catholic Conference All-Star, CCL MVP in 2012
Two Time Boston Globe All-Scholastic (2011,2012)
4th Year Coaching at HGR
2015 2nd team All-American
We salute Scott Corcoran for his skills as well as for modeling exemplary character for his teammates and players, and wish him every kind of success in New York!
READ the Boston Globe's interview with coach Scott Corcoran HERE.