HGR congratulates Coach Michael Daly, HGR Girls Elite Program Director, for attaining the honor of Merrimack Valley Conference Coach of the Year for his stellar coaching of Haverhill High's Varsity Girls Lacrosse.
Coach Daly has a very impressive history in Lacrosse. As Head Coach of Stonehill College, he brought his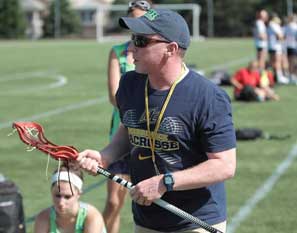 team to two Division II championships, in addition to finalist and semi-finalist positions in the NCAA. He has also been head coach at the University of New Hampshire and Merrimack College. He was assistant director of athletics at both Stonehill and Merrimack.
Of his goals as Girls' Program Director, Coach Daly states "It is a very exciting time for HGR Girls Lacrosse in 2016 as we grow all of our teams AND add to our top-notch coaching staff too. All our HGR Girls Elite Teams will receive high quality/personalized coaching and skill development (and college recruiting advising/guidance) by our staff of former D1, 2 & 3 college players, coaches and elite H.S. coaches. In addition all HGR players will attend and compete in 1 top regional and 3 local tournaments, including elite IWLCA recruiting tournaments, a first for our HGR Elite teams."
Great job, Coach!
Read more about HGR's Coach and Girls' Program Director Mike Daly HERE.