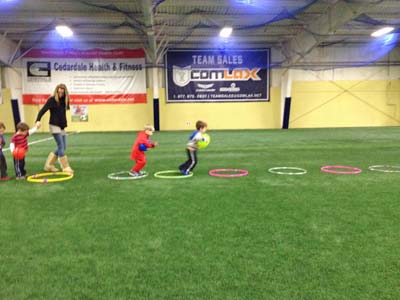 We know that moms with small children are in need of good programs that engage their kids in a happy, fun, and– maybe most importantly– active way. Danielle Brazill, the program director, knows this firsthand. Her son, Owen, just turned two!
That's why she created Bitty Ball, our newest program, which has already become a smashing success.
And with the long months of winter upon us, we know that you need a safe fun place to take your kids where they can blow off all the pent up energy that cabin fever creates.
With that in mind, Moms, this one's for you. Don't miss out. Session II runs from January 12- February 27th.
Here are just a few of the perks for your kids.
Listening & Understanding – Children learn to follow simple and multiple-step directions.
Gross Motor Skills – Improved proficiency results in control and balance in walking, running, jumping, hopping, skipping and marching.
Social & Emotional Development – The program cultivates a sense of belonging, a sense of humor, and understanding of body awareness.
Physical Development – The program brings moderate to energetic intensity activity which increases cardiovascular and muscle strength and endurance.
But we have to say, we think the biggest perk is that you get to take home a tired, happy kid!