HGR Indoor Soccer League
Fall, 2020
8 weeks of games
Sundays; October 25th – December 13th
Cost: $118 per player
Home Grown Indoor Sports • 400 Osgood St. • N. Andover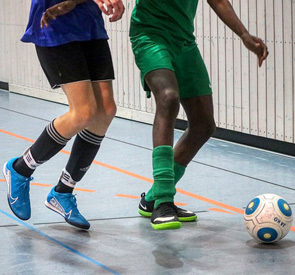 About Our Indoor Soccer League
Please call the office 978-208-2300 or email Peter@hgrlacrosse.com to add your team to the registration process.
Games will be held on Sundays, October 25th – December 13th
Age groups and times
U-8 boys and girls:  8am-12pm (coed)
U-10  girls:   11am – 3pm
U-10 boys:  2pm-5pm
U-12  girls:   4pm – 7pm
U-12 boys:  6pm – 9pm
Over 30:  8pm-10pm (coed)
(Times may vary depending on number of teams)
Staff will wear masks at all times.
Players will wear masks during any games where 6 feet of social distance can't be ensured.
We'll have participants hand sanitize before and after playing games.
We'll wipe down any common-touch equipment.
Participants will bring their own water.
We will follow all state guidelines issued by Gov. Baker
We have extensive COVID safety protocols in place that can be found here.