February Players of the Month
Boys Player: Jeff Trainor | Girls Player: Ashley Warren
Boys Player of the Month: JEFF TRAINOR – BILLERICA H.S. '16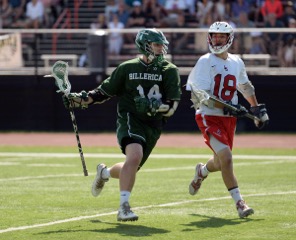 What is your favorite HGR Lacrosse Moment? Going to the Hotbeds Tournament in Delaware and spend the weekend with my boys and play what I love
What is your favorite thing about lax? My favorite thing about lacrosse is the tradition it has. Especially growing up in a lacrosse town like Billerica, it makes me want to play for something bigger than myself. I play for the people before and after me.
Who is your favorite athlete/lax player? My favorite athlete is Lebron James. My favorite lacrosse player is Tom Schreiber.
What stick do you play with and why? I play with a white Nike Lakota U strung up with Otter Mesh, on a STX alliance shaft. I like for the ball to click off the plastic when I pass and shoot for accuracy and the flexible shaft makes for a snappier shot and makes punching hips on defense easier because the shaft doesn't bend or snap.
Headed to a desert island, what 3 things do you bring? 1. Umbrella 2. Beachchair 3. Beachtowel
What's your pre-game song/jam? Runaway by Galantis
Sports Snack Go-To (choose one): PowerBar, Trail mix or PB & J – PB & J
Candy Snack Go-To (choose one): Sour Patch Kids, Skittles or Starbust – Skittles
If you could learn to do anything, what would it be? I'd want to learn how to play draws and fades on all my golf shots.
What is your favorite class in H.S.? Anatomy/Science
If you could meet anyone, dead or alive, who would it be? Johnny Cash
It's 2020 — Where are you and what are you doing? In my senior year at UMASS, and hopefully scoring goals on the lax field.
If you could spend one day as a celebrity or superhero, who would it be? Peter Parker
College Plans/Commitment: UMASS-Amherst to play lacrosse and major in Kinesiology.
Pose a question for the next HGR POTM: If you had to pick an exact time to wake up every day for the rest of your life what would that be? (Mine would be: 9:10 am)
Girls Player: ASHLEY WARREN – WILMINGTON H.S. '16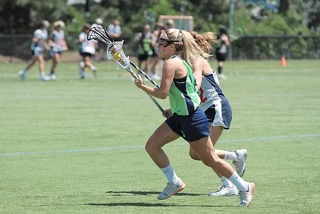 1. What is your favorite HGR Lacrosse Moment? I loved getting the chance to play all the way down in Florida at the ESPN Wide World of Sports!
2. What is your favorite thing about lax? I love lax because it's a fast paced game and you never know what is going to come next. It's a great stress reliever!
3. Who is your favorite athlete/lax player? My favorite lax player is Kayla Treanor and favorite athlete in general is Patrice Bergeron on the Bruins.
4. What stick do you play with and why? I play with the STX crux 500 because of how light it is and the composite,10-degree shaft. It's a perfect stick for middies!
5. Headed to a desert island, what 3 things are you bringing? My lax stick and a ball, a speaker to play music and a friend so I don't get lonely.
6. What's your pre-game song/jam? We Own It- 2 Chainz
7. Sports Snack Go-To (choose one): PowerBar, Trail mix or PB & J Trail mix
8. Candy Snack Go-To (choose one): Sour Patch Kids, Skittles or Starburst Sour patch kids
9. If you could learn to do anything, what would it be? I would love to learn how to play guitar.
10. What is your favorite class in H.S.? My favorite class is forensics.
11. If you could meet anyone, dead or alive, who would it be? Ellen DeGeneres
12. It's 2020 — Where are you and what are you doing? In 2020, I plan on being graduated from college. I also hope that I would have a decent job so I have the money to travel the world!
13. If you could spend one day as a celebrity or superhero, who would it be? I would like to spend a day in the life of Beyoncé!
14. College Plans/Commitment: I will be playing lacrosse at Western New England University.
15. Pose a question for the next HGR POTM: If you didn't have lax, what sport would you play?