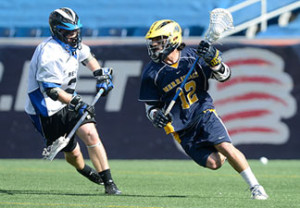 Greg started with HGR Lacrosse back in 2006. He played his HS lacrosse at Billerica Memorial HS where he was a two time All American. Greg also was a two time MVC player of the year, a Globe All Scholastic and Lowell Sun All Star.
Greg played his college lacrosse at Merrimack where he was named NE10 player of the year his junior year. He was also chosen as a D2 All American, and led the country in D2 in scoring his junior year.
Quotes:
" I always appreciated how HomeGrown was run. They always had great coaches. They didn't just get anyone to fill the program like some programs will do. HomeGrown teams always had great coaches and players."
"Having great coaches and players only helped to elevate my game to another level."
Greg hopes to earn a tryout with an MLL team next season, and is considering playing indoors with the Vermont Voyagers. He hopes to get more involved in coaching down the line.