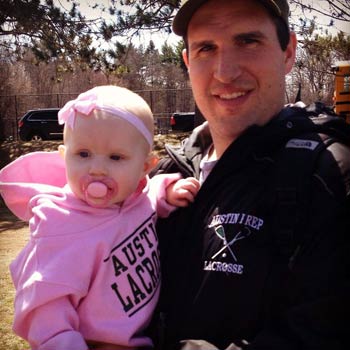 HGR: You just got to your 50th win only 6 games into your 4th year as a head coach of Austin Prep. That's quite and accomplishment, how do you feel about it?
PS: I think it's great and it's a tribute to the kids and how hard they work to become an elite program.
HGR: Do you know your 4 year record?
PS: 50-17. Five of those 17 losses were in overtime, and 6 of them were to Arlington Catholic or Arch Bishop Williams.
HGR: Your two division rivals are Arch Bishop Williams and Arlington Catholic; you three seem to beat each other up every year. This year, you took care of AC and dropped one to Archies. You play them each again. What are your hopes for those games?
PS: We are preparing to win them both. We lost to AC by one and if we clean up some things on our end and maximize the things we do well, we should be okay. We also need to stay out of the penalty box against them. Coach Brother's man up unit is solid. Archie's, we just need to play our game and limit their transition. Those kids can fly in the open field; you don't want to get into a track meet with them.
HGR: You have made playoffs the previous three years as head coach and won the conference twice. What are your season goals this year?
PS: We would like to win the conference again, as well as advance at least one round further in the state playoffs than we did last year.
HGR: How deep would that take you?
PS: The quarter finals.
HGR: AP is your Alma Mater. Are you still the all-time leading points scorer there?
PS: Yup, for now, but I have some strong offensive players that will take me down.
HGR: Are you okay with that?
PS: Yeah, I hope I lose it. That would mean that our team's doing really well, and I would love to pass the torch as a coach.
HGR: Good luck the rest of the way, Coach.
PS: Thanks, it should be a fun ride!