Boston Cannon's Greg Melaugh answers some questions
Greg Melaugh is one busy guy. Not only does he coach our elite boys, but he is also  a successful attacker for Major League Lacrosse's Boston Cannons, HGR's partner professional team. We sat down with Melaugh to find out what it's like to have such a lacrosse-centered life.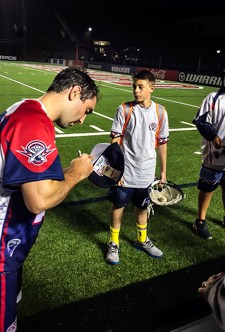 Questions for Melaugh
What's it like being in the MLL?
It's great being able to play the sport I love every weekend. There's nothing I would rather be doing.
How does it feel to be one of the few Division 2 players in the MLL?
I think it's awesome. It's great to see guys other than D1  there because it shows that anyone can make it.
Tell us about Denver.
Denver is great. Playing at Mile high stadium is such a cool experience and all the guys on the team are awesome.
How does it feel to be home?
Being home couldn't be better. I know for me it takes some of the stress out of traveling every weekend and also its great because my family and friends get to come watch me play.
How was it playing in front of your boys?
Playing in front of the boys is the best. They don't stop chirping the entire game. I wish they could be at every game.
You're coaching an HGR team this summer; tell us about that.
Coaching with HGR is always a rewarding experience. It is always a challenge to take a group of kids that have played in different places and have been taught different things and bring them together to play as a team and teach them some new things.
What do get out of coaching kids?
I really enjoy watching players develop. To help a kid get to the next level or just improve on some points of his game is awesome and that's why they are there so when you can help them figure it out it's a win, win situation.
What made you want to play professional lacrosse?
I mean it's every kid's dream to play professional sports and mine just happened to be lacrosse. It also helped that the Cannons originally played about 5 miles from my house and we went to every game.
Who is someone you look up to and why?
My dad. He has taught me how to be a great person and is the reason I always work hard in everything I do, I wouldn't be  here today without his guidance.
If you had one piece of advice to younger lacrosse players (college, high school, or youth) what would it be?
Never stop working for your dreams. There were plenty of times I thought I would never play in the MLL but I kept working and when I got my chance I took it. I think there are plenty of guys that could have been in my situation if the kept working for it.
Read more about Coach Greg Melaugh and HGR's other talented coaches HERE (boys) and HERE for our girls' coaches.