Lake George National Invitational Tournament
Lodging
July 24-25, 2021
Youth Blue and Green teams, Fort Ann, NY
Reservation Information
_________________
HGR Lacrosse is returning to the PrimeTime Lake George Invitational Tournament on Saturday, July 24 & Sunday, July 25, 2021, at Golden Goal Sports Park, Fort Ann NY.
All HGR families are requested to book accommodations through the
Book Your Block dashboard
Please note that these rates are guaranteed only through January 31, 2021!
There are three hotel icons on the dashboard. All three have a minimum stay of 2 days.
The Queensbury Hotel – Glens Falls, NY  

Fairfield Inn & Suites – Queensbury, NY

Holiday Inn Express – Queensbury , NY
All the hotels in Lake George set minimum stays in the peak season. If you wish to extend your stay contact Book Your Block directly.
Additional Information
How to reserve your lodging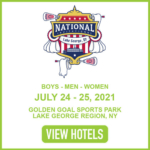 If you click on www.bookyourblock.com/hgr, the site will direct you to the HGR room block with rooms set aside exclusively for our club.  Securing a room requires you to enter the check-in date, the number of nights, and the number of rooms. You will be directed to a checkout page to secure your reservation with guest information and a credit card deposit. Make sure you fill in the team name and age group at the top of the page. If you have a credit voucher, you MUST apply it at the time of booking. The credit voucher can not be applied to the booking once the booking has been completed. The room block is set aside for HGR until January 31, 2021 at 11:59pm. We recommend you reserve early as the room blocks will likely sell out.
 2020 Credit Vouchers
Last year's reservations were cancelled, but our official booking site, Book Your Block, and HGR agreed that if the club returned in 2021 to the tournament event, the athlete families that booked would receive credit vouchers for the 2021 booking. The credit voucher amount is the original deposit paid by the guest at the time of booking in 2020 minus a $15 processing fee.
If you are due a credit voucher from the 2020 booking, Book Your Block will be sending the credit voucher code and information on Friday , January 15, 2021. It will come from:
If it is not in your inbox, please check your junk folder. The email you receive has information on how to redeem the credit vouchers, and there is also an instructional video on the dashboard.
Should you have any questions on the credit voucher, please email [email protected]