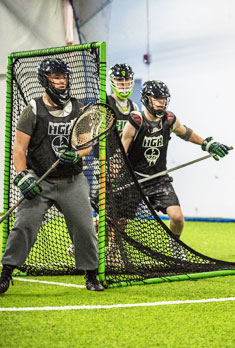 HGR Winter League Indoor Lacrosse 2020
Session 2: January 4 – February 23
Register now!

Only teams participating in Session I are guaranteed a team spot in Session II
U-13, U-15 & HS Boys and U-15 & HS Girls
HELD IN TWO LOCATIONS
HGR Indoor Sports, 400 Osgood St., No. Andover or
The Edge Sports Center, 191 Hartwell Rd, Bedford, MA
Session 2 Details
[Click + to expand for full description]
What Sets Us Apart
This year marks the 11th year of the HGR Indoor Lacrosse League.  Last year we broke our participation record with over 1,000 players running across 3 facilities.The number of participants assures one thing – Competition.  Not just competition, but the appropriate level of competition for you and your team. Our A Bracket features the best teams in the area fighting it out each week for bragging rights, while our B Bracket features newer programs and fantastic JV programs doing the same thing. Either way, our goal is to ensure a close, competitive and safe game every week for every team. The number of years we've been doing this assures another thing – we know what we're doing.  Running a league of this volume takes a lot of administrative work to run smoothly. Our games get off on time, our standings are fair and accurate, our communication is second to none. All-Star games and recruiting – In the second session of the league we hold an All-Star game for all divisions, U-13 through uncommitted seniors, for both the boys and girls leagues.  This event features the best players in the area and is attended by college coaches to recruit that talent.  Here's what coach Morgan from DI Merrimack College had to say about the event:

"It was a great event. I got to see some of the best talent in the north shore of Massachusetts in 3 short hours. It is also conveniently scheduled at a time where there are no other recruiting events taking place. The facility and talent were fantastic."

Here's what coach Caulkins from DII Southern New Hampshire University had to say about the event:

"I left the games with a list of kids that I am very interested in recruiting. It was nice to attend an event that wasn't watered down."

We don't coach the league.  Kids spend enough time nowadays getting coached.  Our goal is to provide the absolute best sandlot lacrosse experience we can, and let the players play however they like.

We guarantee goalies. We hire "on-call" goalies each week so if a team shows up without a goalie, they're not left shooting on a trash can.  Nothing kills the competitiveness of a game faster than not having a keep between the pipes!  We've eliminated this problem.

Beautiful state-of-the-art facilities. Both Home Grown Indoor Sports in North Andover and The Bedford Edge in Bedford have state of the art field turf.  Players are welcome to wear cleats and never have to worry about turf burn from the older, less forgiving turfs.

Safety on the field. We provide two patched officials at every game to ensure a safe playing environment.

Cross-Facility playoff format. There are 8 divisions in the high school league: both the Boys and Girls divisions have an A and B subdivision at each location–Bedford and North Andover.  The top two teams from each division qualify for playoffs and the 1 seed hosts the 2 seed in their division at their home facility for the final four.  If you don't qualify for playoffs you are still guaranteed 8 weeks of games.
Boys and Girls Schedule
Session 2 Schedules
All times are subject to change based on the number of teams participating in the league at each division.
U-15 and U-13 Boys
HGR, North Andover: Saturdays between 1:30 pm-8 pm
The Edge, Bedford: Sundays 7:25 am–noon
High School Boys
HGR, North Andover: Sundays between 8 am – 4 pm
The Edge, Bedford Sundays 7:25 am – noon
U-15 Girls  (7th and 8th grade)
HGR, North Andover Saturdays between 1:30 pm-8 pm
High School Girls 
HGR, North Andover Sundays between 4:00-10:00 pm
The Edge, Bedford Sundays 7:25 am-noon
For a full team you need 12 players. Once you have your 12 players signed up you get to choose your location. If that location is sold out you will have to play at the available location. Session 1 sold out one week before registration ended. We are anticipating the same with session 2. Don't miss out; sign up today!
Register now!

Pricing
Individual Price: $190 per player (pinnies included)
Team Pricing: $1850 YOUTH ONLY
For more information, email Bryan@HGRlacrosse.com or call the office at (978) 208-2300.
Learn all about the HGR Winter League Program from our founder, Coach Bryan Brazill