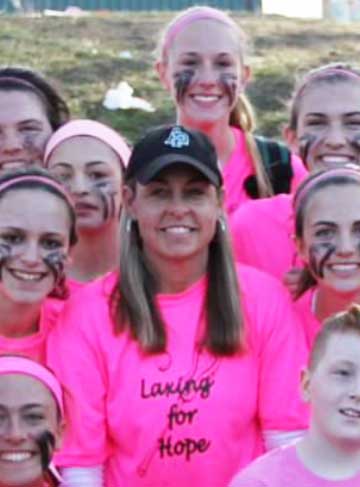 We're extremely excited to be able to introduce the newest member of our staff–Liz Richards, our new Girls' Lacrosse Program Director. We asked Liz to answer a few questions to help our parents and players get to know her.
When did you start playing Lacrosse?
I didn't start playing lacrosse until 9th grade. When I was younger there weren't any youth lacrosse teams for girls. I was familiar with the game but I was a soccer player. I was asked by the coach to try out in 9th grade for the varsity team. I loved the sport from the minute I picked up a stick. I continued to play varsity my four years in high school and then played in college.
What's your favorite Lacrosse memory?
I have so many great lacrosse memories it is hard to pick just one. Some of my greatest friends I have now are the ones that I have met on the lacrosse field. I would have to say one of the greatest memories is when I was playing in college and I scored the goal to break the school record. The game stopped and they announced that I had just broken the record. My family and friends were there from Long Island. It was pretty special.
That is pretty cool! How did you get into coaching?
I have been a PE teacher for 18 years. Teaching and coaching have always been a passion of mine. I have been an athlete all my life and have seen a variety of different coaching styles. There were two coaches in particular that had a tremendous impact on my life. I love that coaching gives me the chance to do that for young athletes. I am able to share my passion and knowledge of the game and at the same time mentor them to be successful in their lives.
What is your coaching philosophy?
Through my passion for the game of women's lacrosse, I work to provide our players with the tools needed to become their best, to challenge themselves and to ultimately succeed on and off the lacrosse field. I believe that through lacrosse we can extend to our athletes the importance of teamwork, friendship, leadership, dedication, education, honesty, sportsmanship and competition.
Where do you see girls lacrosse heading in the next 5 years?
When I moved to Boston in 1993 it was hard to find girls teams to coach. Girls lacrosse is everywhere now. It is really exciting to see it take off the way it has. I am really excited to be a part of Home Grown Lacrosse. The girls division is going to keep getting better and better in the coming years. We have some exciting ideas and I can't wait to see how far we will come in 5 years.
What's your favorite thing to do when you're not playing or coaching lacrosse?
I have three teenagers that all play ice hockey and lacrosse. I do not have much free time but when I do I love to watch their games and spend time with my family.