March Players of the Month
Boys Player: Pat Carey | Girls Player: Tori Bruce
Boys Player of the Month: PAT CAREY – NORTH ANDOVER H.S. '17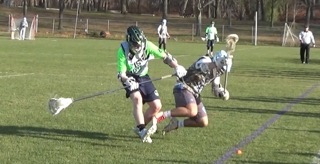 What is your favorite HGR Lacrosse Moment? My first tournament with Homegrown when we won the Keene State tournament
What is your favorite thing about lax? The family feeling to a lacrosse team
Who is your favorite athlete/lax player? Sergio Perkovic.
What stick do you play with and why? Maverick xcel shaft with a Brine triumph head and stringking mesh. Sturdy and reliable.
Headed to a desert island, what 3 things do you bring? Phone, headphones, boat.
What's your pre-game song/jam? T.A.D.E.D, The Underachievers
Sports Snack Go-To (choose one): Ritz peanut butter crackers
Candy Snack Go-To (choose one): Watermelon Sourpatch
If you could learn to do anything, what would it be? How to cook well.
College Plans/Commitment: Uncommited
If you could meet anyone, dead or alive, who would it be? Muhammad Ali
It's 2020 — Where are you and what are you doing? At whatever college I commit to playing lacrosse and keeping my grades up.
If you could spend one day as a celebrity or superhero, who would it be? Cam Newton
From Jeff Trainor HGR '16 – If you had to pick an exact time to wake up every day for the restof your life what would that be? (Mine would be: 9:10 am): 8:45
Pose a question for the next HGR POTM: If you could pick any college lacrosse program in the country to play for who would it be? Mine, Notre Dame
Girls Player of the Month: TORI BRUCE – AUSTIN PREP '17

1. What is your favorite HGR Lacrosse Moment? The first night at the President's Cup in FL.
2. What is your favorite thing about lax?The importance of teamwork
3. Who is your favorite athlete/lax player? Paul Rabi or Maddy Lesher.
4. What stick do you play with and why? I use an STX head and DeBeer shaft. I got the shaft at my first big tournament, and I strung my head with a launch pocket. I like knowing basically I built what I play with.
5. Headed to a desert island, what 3 things are you bringing?My dog, a stick and ball, and Netflix.
6. What's your pre-game song/jam? Hey Ya — Outkast
7. Sports Snack Go-To (choose one): PowerBar, Trail mix or PB & J Trail mix
8. Candy Snack Go-To (choose one): Sour Patch Kids, Skittles or Starburst Sour patch kids
9. If you could learn to do anything, what would it be? Talk to animals.
10. If you could meet anyone, dead or alive, who would it be? John Lennon
11. It's 2020 — Where are you and what are you doing? In college, tearing it up at whatever I'm doing.
12. If you could spend one day as a celebrity or superhero, who would it be? Wonder Woman (oh wait, I already AM)
13. College Plans/Commitment: Hopefully play, TCNJ, RPI or ULowell
14. From Ashley Warren HGR '16 — If you didn't have lax, what sport would you play?
15. Pose a question for the next HGR POTM: Can you remember the moment when you fell in love with lacrosse? If so, what was it?
world!