Check out new Girls Rules
US Lacrosse, "the sport's national governing body," in a new collaboration with the NFHS (National Federation of State High School Associations), has announced High School Girls rule changes for the 2019 season. Rules committee liaison Caitlin Kelley states "In general, high school lacrosse rules are grounded in the principles of player experience and safety, the integrity of competition and balance between offense and defense, the alignment across levels of play and the preservation of the integrity of the game." Among the significant changes are:
New rulings regarding self-starts. According to NFHS.org, "in an attempt to increase the pace of play in high school girls lacrosse, self-start has been adopted for restarting play outside of the critical scoring area." FAQs on this rule can be found at https://www.uslacrosse.org/blog/faqs-on-new-self-start-rule-in-high-schoolgirls-lacrosse.
Creation of a penalty zone in the critical scoring area. This new rule "[establishes] a penalty zone that must be cleared when a defensive player commits a major foul in the 8-meter arc. The committee advanced this safety-based change to minimize risk around 8-meter free positions as well as to increase pace of play by limiting repeated obstruction calls." More on this and other new rules can be read at https://www.nfhs.org/articles/self-start-initiated-in-girls-lacrosse-to-increase-pace-of-play/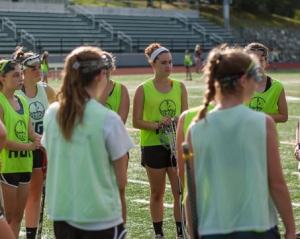 There are several  more changes to familiarize yourselves with, all of which will also be reinforced by the HGR coaches at your practices.