So you want to be the next great lacrosse player? I want to show you what your competition looks like.
His name is Sean Fagen. He's 12 years old from North Reading MA.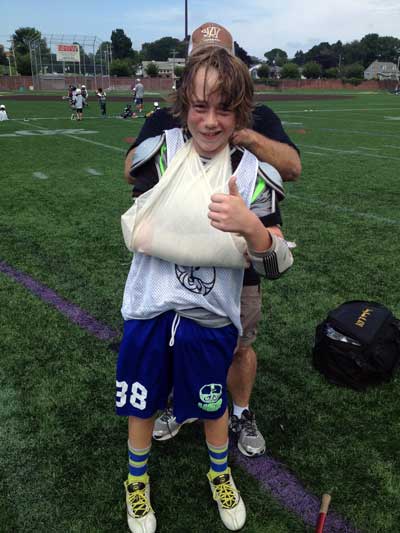 Sean has been participating in then Home Grown (now HGR) camps, clinics and teams since he started playing lacrosse in kindergarten. I have witnessed countless signs of Sean's impending greatness over the years, but this past week at HGR youth camp Sean left no doubt that he is the real deal.
Lot's of kids say they want to be great; they buy the latest and greatest equipment, wear their lax shorts to school so everyone knows they play, and they may venture out into the backyard to shoot a couple of balls from time to time. Here's what it really takes to be great:
Sean was wrapping the cage lefty(which is his off hand) and released a low to high shot as he was popped by his defenseman. The shot hit inside top corner and Sean braced himself for landing with his right wrist. Bad news for Sean's wrist.
Here is what a dinner fork break looks like. The forearm sits above the hand like a handle of a fork and the hand sits below like the head of a fork with the wrist acting as the bend in the fork. It is a very painful break that needs to be reset at the hospital before it can be placed in a cast.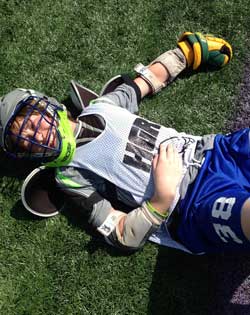 Sean handled it like a champ and barely batted and eye to a break that our trainer, Andy, said has reduced a number of college athletes that he has worked with to tears.
Here is Andy securing the sling on Sean.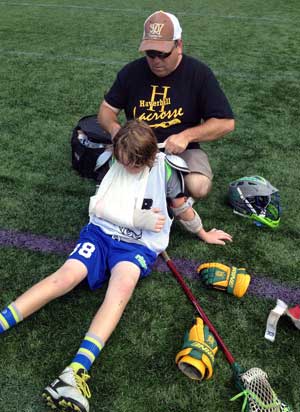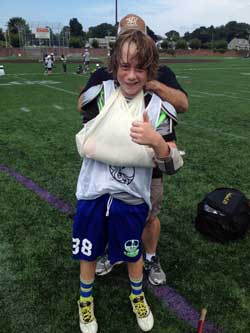 Here is Sean 5 minutes after the break, already smiling and giving the thumbs up.
All that makes for a pretty tough and pretty cool kid but what sent me over the top and what makes Sean an unusually driven player is this photo.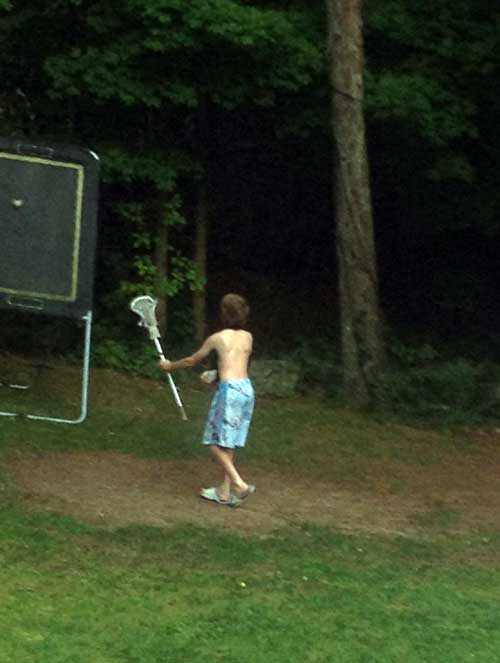 This photo was taken the next day by Sean's father, Chris (former Merrimack College assistant coach and current North Reading youth lacrosse president). Sean was out playing wall ball, his broken and dominant hand in a cast. Sean got to work on developing his off hand. And for the cynics and critics, Sean isn't posing for this picture. It was simply snapped without him knowing by his proud father. The same way we received the below photo of Sean shoveling a path to his throw back in the middle of winter after a big snow storm.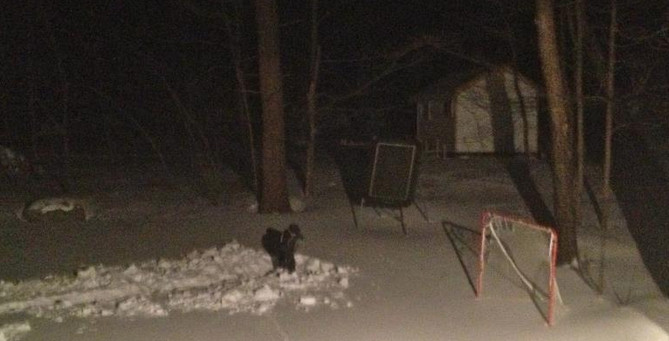 That photo won our Facebook cover photo challenge and the above photo of Sean simply inspires me!
–by Coach Brazill