#22 sophomore Midfielder for Merrimack College, Tim Towler (Topsfield Mass) led all midfielder scorers for the Warriors with 27 goals on the season including a 5 goal performance against St. Anselm's College.  Tim also led the Warriors in EMO goals with 9 tallies and 10 goals in three playoff games.  Towler's knack for finding the back of the goal earned him All-American honors. 
Tim joins Greg Rogowski as the only other Merrimack player to earn All American honors as a sophomore.  Greg went on to be the all time leading scorer for Merrimack College and set a number of NCAA records.  
Ti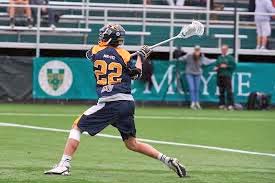 m started with Home Grown Lacrosse when he was a sophomore in high school and immediately impressed the coaching staff with his work ethic.  "Tim was the hardest worker we had in the program.  He never confused his potential for being great for being there already.  So many young players fall into that trap but not Tim.  He came in for 2-3 private lessons a week, was constantly in the weight room and was the first to show up to practices and the last to leave for all 3 years we had the pleasure of having him in the program.  By the time he was at tournaments and showcased his skills to college coaches he actually put in the work to have real skills to showcase." – Coach Smyth –
I was thrilled when Tim decided to commit to Merrimack, he had some other great offers out there including U-Mass Amherst.  When he decided to come to MC I was really excited about the opportunity to continue to coach him at the next level and see where he could take his game.  Like Pete said (Coach Smyth) the kid has an incredible work ethic which makes it fun to coach him but when you factor in his passion for the sport, his unshakable confidence and perpetual good mood he has easily become one of my favorite all time players.  Not to mention just a great kid to be around.  I don't think he has scratched his potential yet as a player.  My goal for him is to be the Paul Rabil of division II lacrosse and I have no doubt that he will be able to dominate the sport at that level. 
Congratulations to Timmy from the entire HGR family!