HGR Girls Lacrosse Coaches
 Kristy Robertson – Girls Program Director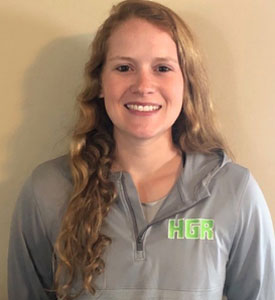 Assistant Coach at Endicott college September 2017- present.
Graduated from Haverhill High School in 2013 as a 4-year Varsity player
Leading goal scorer at Haverhill High School
Attended Southern New Hampshire for 1 year and then transferred to Umass Lowell for last 3 years of college
Served as a two-time captain- Division 1 lacrosse at Umass Lowell.
Graduated from Umass Lowell in 2017 with honors and a degree in Liberal Arts
2 year – Student Advisory Committee (SAAC) Rep at Umass Lowell
Volunteer Assistant coach for Haverhill High School Varsity Lacrosse in 2014-2017.
---
Brittney Whiteway – High School Coach Summer 2020
Current varsity girls lacrosse coach for Billerica Memorial High School.
Brittany played lacrosse for Billerica MHS and served as Team Captain.
She played 4 years as starting defender at Southern New Hampshire University (DII).
---

Catie Walsh – Youth Coach Summer 2020
HGR Coach Summer 2019, Assistant Fall 2017
Played 4 years as a Defender at Saint Anselm College (DII)
Graduated Saint Anselm College in 2016 with a Liberal Arts & Business Degree
Volunteer Assistant Coach for Cheverus High School 2013, 2014
Played 3 years and was team Captain at Cheverus High School (ME), 1 yr at Norwell High
Awards: Cheverus High School Coaches award 2012
Currently working as an Account Manager for Carbon Black in Waltham, MA
---

Cara Corvino — Youth Coach Summer 2020
Originates from Dorset, Vermont where she grew up playing lacrosse.
Graduated from Stonehill College in Easton, MA in 2017 majored in Communications
Captain of the Women's Lacrosse program in her senior season
Named a two time All American at Stonehill
Currently resides in Boston where she is a Customer Success Manager.
She enjoys traveling and staying involved in the game of Lacrosse
---

Taylor Shannahan, Youth Coach Summer 2020
Originally from New Jersey and currently lives in Brighton, MA
 Graduated from Stonehill College in 2018 where she played both soccer and lacrosse
 Currently works for W.B. Mason as a Recruiter
---

KT Blair – Youth Coach Summer 2020
Head Varsity Coach of North Andover Girls Lacrosse program, and  formerly the head coach of Dracut High School (for 10 years).
UML player all four years she attended; Captain her junior and senior year, along with being club representative of the year.
She is the head coach of the Windham Field Hockey Program and the head coach of the 2014, 2016 & 2017 Division II State Championship, 2019 Division I State Championship, 2015 Division II State Runner-Up, and 2018 Division I Runner-Up Field Hockey teams.
2019 Eagle Tribune Coach of the Year.
---

Morgan Pike – Youth Coach Summer 2020
From Shapleigh Maine, went to Massabesic High School
Junior Attacker at Endicott College
Majoring in Mathematics and Secondary Education
Coaches youth + HS players year round
---

Hannah Gohr – High School Coach 2020
4 Year varsity Player at Reading Memorial High School.
Homegrown Lacrosse Alumni (2014-2018)
Just completed Freshman Season at Assumption College as a Midfielder/Draw Specialist
---

Miriam Ghabarou – High School Coach Summer 2020
Originally from the Syracuse, New York area but currently living in Boston.
Graduated from Binghamton University in 2018 where I studied Integrative Neuroscience.
During my time on the Binghamton Lacrosse team I was a starting defender and Team Captain, and received America East Second Team Award.
I'm currently working at a Software Development company in the city. I love to travel and explore new places!
---

Samantha Jones- High School Coach Summer 2020
Bio: Originally from Franklin, MA
3 year Varsity Starter and Senior Captain for Franklin High School
Awards: 2x Hockomock League All-Star, Lower New England 3rd Team, Team Sportsmanship Award, Team Coach's Award, 2nd Team All State
Attended University of Charleston for one year then transferred to Endicott College for remaining 3 years
Defender on Endicott College WLax team
Senior Captain
Awards: First Team All CCC
Major: Athletic Training
---
Alex Palermo – High School Coach Summer 2020
4 year varsity player at Reading Memorial High School and captain senior year.
Will be a Sophomore attacker at UMass Lowell in the fall 2020.
---

Carolynn Keal — Coach
Carolynn Keal joined the Homegrown Lacrosse coaching staff in 2019.
She is entering her second year at New England College as assistant for the women's lacrosse team.
Keal comes to HGR following a successful season at NEC, where the team won the NECC Conference Championship and proceeded to the first round of the NCAA Tournament.
She played for the Owls of Southern Connecticut State University. She finished her career by starting every game the Owls competed in during her four years and was named a team captain for two years at the University.
She set the SCSU single-season record for assists and the single-season caused turnover record. She finished her career with 161 points.
A native of Southington, Connecticut, Keal completed her degree in Biology with a certification in Secondary Education. She is pursuing her Master's degree from NEC.
---

Clare Blomberg – Coach
Long Island Native
Graduated from Merrimack College in 2017 where she served as a Captain
She played alongside her sister, who graduates in 2019.
When she graduated she got a job as a Healthcare Admin at Boston Children's Hospital
---
Jaime Balboni – Coach
From Billerica, MA
Graduated from Endicott College May 2019
Majored in Sport Management and Business Administration
Played Attack on the Endicott Women's Lacrosse team
---

Talia Dellatto — Coach
Defender on the Endicott College Women's Lacrosse Team
Graduated from Endicott with an Education degree in 2019
Will be attending Mass General's Accelerated Nursing Program starting January, 2020
Lives in Andover, MA: 4-year varsity lacrosse player at Andover High School, senior captain
Awards:

2018 CCC Academic All-Conference
2019 CCC Academic All-Conference
2019 IWLCA Division III All-Pilgrim Region Second Team
2018 All-CCC First Team
2019 All-CCC First Team
---

Kerrin O'Leary — Coach
Played 4 years at Bridgewater State University
All MASCAC Second Team
 Captain of the lacrosse team during her senior year
Internal Recruiter at ALKU
---

Michaela Brown — Youth Coach
---