2020-21 will mark our 12th year running our Soccer Foot Skills program coached by Roland Dudney.
Our winter soccer training sessions are broken up into three separate courses, beginning in October, December and January. Classes are limited to 20-24 students (depending on age) to ensure optimum personal attention, so reserve a space today to avoid missing out on Roland's expert tutelage.
Due to the extreme popularity and limited class size of this program, the only way to guarantee a spot in Session II and III is to be registered for Session I.
As a number of you return to our facility for the first time since April it is important that you understand our COVID policies and procedures.  They are listed below and are in place to keep you safe, make everyone feel comfortable and to ensure we are compliant with all guidelines provided by the state of Massachusetts and Governor Baker.
None of these policies are in place to alarm you or scare your children. We've been adhering to them all summer with our lacrosse customers and we've been able to have a great time. The kids adjust quickly and the smiles under the masks or through helmets make all the hoops we have to jump through seem like small tasks to get them back to sports.
Air Flow – We will open all doors as well as at least 1, if not 2, of the massive garage doors to encourage air flow and circulation.
Spectators – We do not allow any spectators inside the building. If you would like to watch your son or daughter's class you are of course permitted to do so.  What simply we ask is that you watch from the garage doors with a mask on at all times.  We also ask that you do not stand directly in the doorway but back approximately 10 feet to allow players who may be running late to get into the building easily without having to move past you.
Entrances and Exits – The entrance to the field is still down the side of the building, however we just have players come in the garage door on the side of the building rather than having them have to open two doors down the hallways.Players will wait outside the building, socially distanced, until a coach invites them to step onto the field.The previous class will exit the field prior to the new class enteringThe players will exit the field by the loading bay in the front of the building.We ask that players do not start lining up for class earlier than 5 minutes prior to the start of their class. We also ask that all players go directly to their parents' car as soon as their class is over.
Sanitization – We have an employee sanitizing all commonly touched surfaces and equipment at all times. Their sole job is to ensure they are sanitizing surfaces and providing sanitization options for the players and coaches.
Coaches – will be wearing masks at all times and will do their best to keep 6ft distance from players whenever possible.
Players – Soccer players must wear masks at all times, including during play, entering the building and exiting the building.Lacrosse players must wear masks entering and exiting the building but are not required to do so while playing.
Equipment – The only equipment permitted in the building is a personal water bottle, a soccer ball or lacrosse stick and whatever is on your person (protective equipment must be worn into the building). You cannot bring gear bags in the facility or a change of clothes.
Water – We cannot provide any kind of public water per phase III sports restrictions. As such our water fill station has been turned off and disconnected for the time being. We recommend you bring your own water and label it clearly. Any water bottles left at the facility will be thrown out.
Huddles and high fives – are not permitted right now. We hope they'll be back soon.
U8 – U14/16
Session 1 runs from October 27 – December 10, 2020
1 hr sessions
7 weeks of classes
Cost: $146
OCTOBER 28st - DECEMBER 10th
Tuesdays
U-8
5:00 - 6:00
U-10
6:00 - 7:00
U-12
7:00 - 8:00
U-14 / U-16
8:00 - 9:00
Wednesdays
U-8
5:00 - 6:00
U-10
6:00 - 7:00
U-12
7:00 - 8:00
Thursdays
U-14/U-16
4:00 - 5:00
U-8
5:00 - 6:00
U-10
6:00 - 7:00
U-12
7:00 - 8:00
Demand for this program is always extremely high. We anticipate the same for the upcoming season.
Once classes are sold out you will be placed on a waitlist. If you are waitlisted we will contact you to try and place you in one of our rollover classes. Please be sure to sign up for the waitlist and we will do everything we can to accommodate all players and families.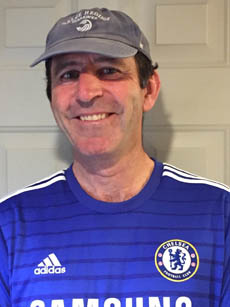 Coached by Roland Dudney
HGR is proud to present the 12th year of our winter soccer camp series, Foot Skills with Roland Dudney. Originally from England, Roland grew up playing soccer.
NSCAA Director of Coaching Diploma
He has coached all levels of soccer from town to Olympic Development, boys and girls
Holds an NSCAA Advanced National License
Roland also holds a USSF "C" License
Previous Mass Youth Soccer Association Instructor
Started Home Grown Soccer Foot Skills Program 12 years ago
Currently Director of Coaching for North Andover Soccer