Austin Prep Youth Lacrosse Clinic
2019
for boys grades 3 – 8
August 5th through 8th 2019
9am – 3pm
Fee: $250 per player; lunch and pinnie included
Location: Austin Preparatory School, 101 Willow Ave., Reading MA 01867
Registration is OPEN!

While HGR isn't running a Youth Camp this Summer, we are proud to recommend Austin Preparatory School's 4-day Summer Lacrosse Clinic, directed by our own VP Peter Smyth, Head Coach of Austin Prep Lacrosse.
This clinic, for boys grades 3 – 8, covers lacrosse fundamentals through specific positional skills, and is geared to accommodate all levels of experience.  Participants will benefit from individualized instruction and drills, and will put their training to the test during on-field scrimmages.  You'll get it all in a fun and supportive atmosphere, where safe practices and respectful teamwork are a priority.
Participants will need to bring their lacrosse stick, mouth guard, helmet, gloves/pads, sunscreen, water, and appropriate clothing for weather conditions. 
Blue Cheetah Summer Day Lacrosse Camp
July 15 – July 19, 2019
9am – 3pm
Open to boys ages 7 – 16
Fee: $350 per player; $40 discount for goalies. Sibling/ Group discounts available
Location: Lincoln Park, Lexington, Massachusetts
Registration is OPEN!

This developmental lacrosse camp, open to boys entering 2nd through entering 10th grade, is located at Lincoln Park, Lexington, Mass. Improve your skills and learn new ones on three state-of-the-art fields.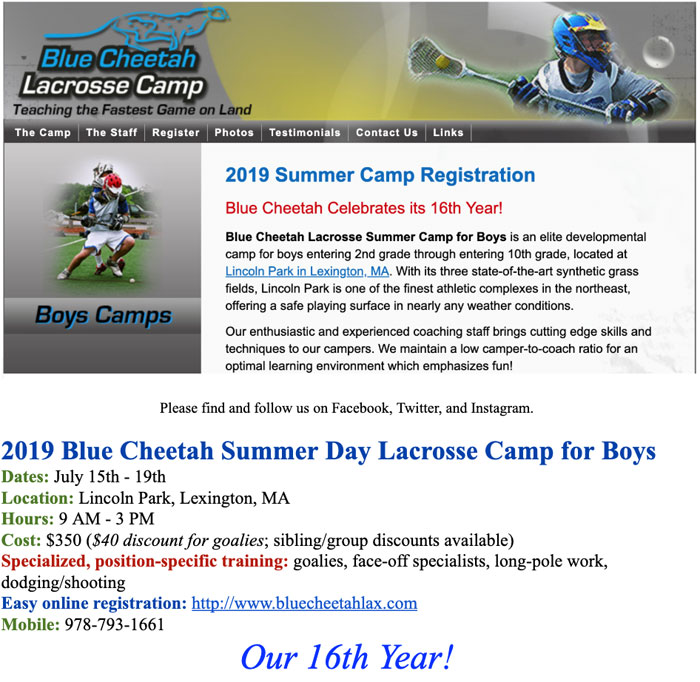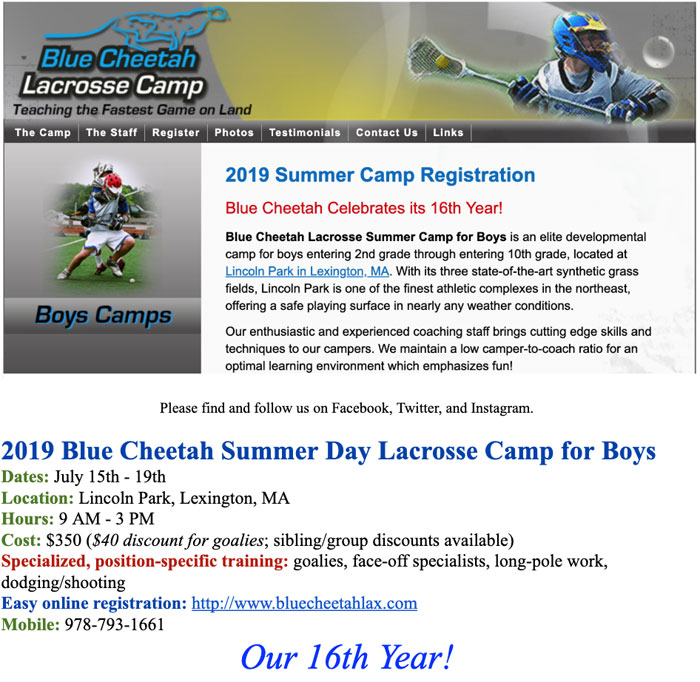 Learn all about HGR's Summer Camp — Returning soon!
Watch HGR campers in action!

Beating the Summer Heat!
HGR Lacrosse Champ Camp Kids Know How to Cool Off!

Brain Fart?
It's hard to hear under all this plastic and padding! You'd think Braveheart sounded an awful lot like brain fart too!

Braveheart Not Brain Fart
Part of the HGR Summer Youth Lacrosse Camp fun is the one-on-one challenge of a Braveheart match.
When games end in a tie at a tournament or camp we usually play Braveheart instead of overtime. It's quick, easy and fun. It's a one-on-one that starts with a face off and goalies in each cage.