Trash Can Ball November Session
You've heard of our indoor lacrosse league (the biggest in the state!), consisting of our youth league for grades 5 through 8, and our high school league.
We have recently introduced an incredible option for 2nd, 3rd and 4th graders: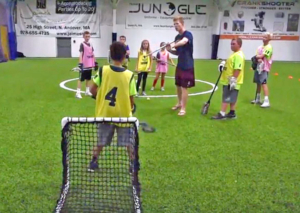 The November Session is coming up quickly, beginning on Saturday, November 4th.
Trash Can Lacrosse is a version of the sport that emphasizes passing, catching, accurate shooting, ground balls and team play. At one point or another the best players in the world have played either Trash Can Lacrosse or a variation of it, they have used this version to build a fundamental understanding of the game while keeping the focus on having fun and being creative. This league is designed to give your child an inclusive team first environment where they get to learn the fundamentals and a love of the game.
WHO – 2nd, 3rd, 4th graders.
WHAT – HGR Trash Can Lacrosse League.
1 hour session with 15 minute coach up followed by 45 minute game.
3v3 style with each team having 2 subs.
Maximum of 5 runners per team.
No score will be kept.
No stick checks – only passing lane/positional defense allowed.
Gloves, cup and mouth piece are necessary even though games will be played with a soft ball.
We will provide HGR pinnies.
Each age group will get 4 hour long sessions for $60.
WHEN
League runs for one-month-long (4 week) sessions continuing through May, 2018
8am-11am on Saturday Mornings

2nd graders start at 8am
3rd graders start at 9am
4th graders start at 10am.
Wach age group will get 4 1- hour long sessions.
WHERE – Games will be held at HGR located at 400 Osgood Street North Andover, MA.