HGR Boys Elite Teams Bring Home the Trophies!
Our heartiest congratulations go out to our 2020, 2021 and 2022 boys for their winning performances at the NXT Bulldog Bash. HGR 2020's 4-0 sweep, our 2021 players' 4-0-1 record, and the 2022's 4-0 record earned them these (plus one more):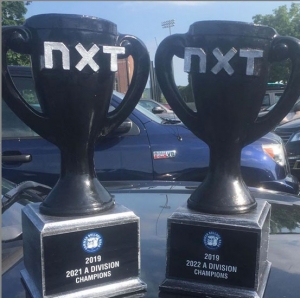 HGR has been attending the Bulldog Bash at Yale University for many years. The tournament is one of New England's biggest, and hosts dozens of coaches from top national universities. The exceptional performance of these talented, hard-working teams shows HGR's dedication to bringing out the best in our players. Congratulations to you all!
Our Fall Elite try-outs are scheduled for July 24th and 25th (boys) and July 28th (girls). REGISTER ONLINE NOW!
To learn more about HGR Lacrosse programs for boys and girls, visit https://hgrlacrosse.com/programs/hgr-elite-teams/