Have you checked out HGR's lacrosse drill videos?
At HGR, we are devoted to bringing out the very best in our players, from beginners to our most skilled and experienced. An important part of this process is making sure we have a well-trained, talented coaching staff for our boys and girls teams.
The Coach's Vault is our place to share our coaching expertise publicly. HGR lacrosse, together with the MBYLL, has recorded some of our favorite drills for high school and youth coaches to access completely free of charge. The videos begin with a whiteboard diagram to show coaches the setup and process of the drill. This is followed by a live-action demonstration of the drill.
To date, we have over 35 videos: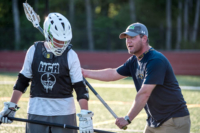 Offense
Novocaine
Shoot The Gaps
RB/QB
Nascar
Roll Reps
LS Drill
Apache
Pistol
Slide Recognition
Zippo
Diamond Cutter
Defense
Perfect Pentagon
Side and Release
Burger
GIPO
Goalie Warm-ups
Goalie Drills
Defensive Footwork
Transition
Clearing to 3v2
Cadet
Slap the Bucket
Scramble
Cannons
Sideways
UVA
Hoops
Faceoff to Headman
Odd Man Get Arounds
Stick Work
5 on a Die
Pyramid Shooting
Spoke Passing
Hammer Time
PAPA
3-Man Handle
Meatloaf
Smith Shooting
Yale Passing
Good luck!