What's to Be Under Your Tree?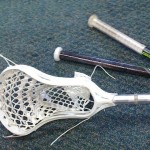 Is it a pair of LED-lighted lacrosse sticks and a few mega-glow-in-the-dark balls so you can play after sunset? Will you find a lacrosse cell phone case? Tickets to Merrimack Lacrosse games, or even the Boston Cannons? Might there be some posters of your favorite pro lacrosse players, some bumper stickers for the family car, or a lacrosse coffee mug for mom and dad. Is your lacrosse gear in a bit of a jumble? You might find stick racks, gear bags or helmet hooks. Santa might pull lacrosse beanies, tee shirts and hoodies, pjs, socks, or even lacrosse bedding out of his bag.
What do we want to find under the HGR Tree on Tuesday morning? Rather than all of the above, and way more important to the HGR Staff, is to hear that all of our players are safe to return to their post-holiday activities. That none of the children are in circumstances where they may be disappointed. We want to see that in addition to incredible lacrosse skills, that we have helped our players to have strong and generous characters, are resilient, and have helped them develop a good over-all perspective, as well as passion, in setting their goals, on and off the field.
We hope Christmas will find everyone in our far-reaching HGR family having a lasting and deep happiness–this most of all.