What are we all about here at HGR Lacrosse?
As a sports business, we strive to bring out the very best in our player's athleticism. As our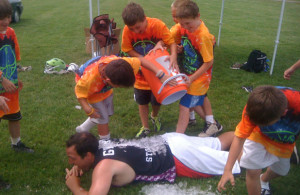 owner, Bryan Brazill put it, "If your son or daughter puts the effort into this program I can guarantee they will come out a significantly better player than when they first came through our doors." Through our programs, we provide kids with the tools to develop both personal and athletic skills. We identify our players' strengths and needs, striving to bring out the very best in all of them. We place a lot of stock in the development of our coaching staff as well, ensuring they instruct and model the values that are central to kids' growth on and off the field: teamwork, health and fitness, leadership, respect, dedication, loyalty, and fairness, among many others.
Equally important to us is keeping our players engaged in the game of lacrosse for their entire school career. US Lacrosse, the sport's governing body in the U.S., has developed a framework for reaching these goals. Here are their 6 core values that we incorporate into our programs, to make the sport an enjoyable as possible, and bring out the best in our players from U6 on up:
Fun & Player-Centered: Fun is the #1 reason players participate in sports. Keep the experience about the players and don't be afraid to have some fun.
Inclusive & Age-Appropriate: The right lacrosse at the right time. It's about development and a welcoming environment for all.
Multi-Sport Participation: Many sports and physical activities make great lacrosse players. Incorporate and encourage rest as well as other athletic activities.
Physical Literacy: Knowing how to move and having the ability to do what you want with your body are the building blocks of athleticism.
Small-Sided and Free Play: More playing, more creativity, more learning. Let players discover and learn through playing and competing.
Trained Coaches: Having trained coaches yields better experiences for players. Keep learning and getting better at what you do.
There is a term called "Lacrosse IQ" which focuses on the players' on-field skills. This is a very important part of athletic education. The core values above take a broader view, involving the development of youth lacrosse programs overall. This is what HGR Lacrosse is all about.