…then nothing is!
Did you know there is an entire national league for wheelchair lacrosse? Check out the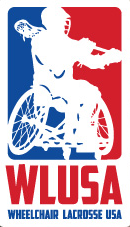 WLUSA. The organization, founded by two players who suffered spinal injuries, has been conducting camps and organizing chapters since 2009. Regional programs–currently 16 chapters–have been taking off since then. The WLUSA website, wheelchairlacrosse.com has more information, including this summary of the rules:
[su_quote cite="Wheelchair Lacrosse USA" url="http://www.wheelchairlacrosse.com/"]Wheelchair Lacrosse is played on a roller hockey rink or box lacrosse pad. It is 8 players per side; 2 players must remain in the offensive half and 3 in the defensive half at all times. Wheelchair lacrosse is played using a no-bounce ball and basketball chairs.[/su_quote]
The full rules can be found at http://www.wheelchairlacrosse.com/rules.
Have a look at this video, which is the best way to be inspired!
[su_youtube url="https://youtu.be/NccXfsRm_P4″ width="580″ height="360″]
Head to the WLUSA website to read all about this exciting league!